Eggplant
Meaning
The eggplant emoji has become a popular and somewhat controversial symbol in digital communication. Its primary meaning is associated with the vegetable itself, the eggplant, which is a dark purple or black fruit commonly used in cooking. However, the eggplant emoji has taken on a secondary meaning that is often of a more risqué nature.
In slang and informal use, the eggplant emoji has come to represent a phallic symbol. The elongated shape and dark color of the eggplant resemble a penis, and this visual similarity has led to its association with sexuality, innuendo, and suggestive content. Consequently, the eggplant emoji is frequently used to allude to or represent male genitalia in a cheeky or flirtatious way.
Additionally, the eggplant emoji can be used in a more lighthearted manner, often as a symbol of humor or playfulness. It may be included in messages or social media posts to convey a joking or playful tone, or to emphasize a funny or absurd situation. Its use in this context is typically harmless and not necessarily tied to any explicit or sexual connotations.
However, it is essential to note that the interpretation and intended meaning of the eggplant emoji can vary depending on the context, the individuals involved, and the cultural norms. While some may use it solely for its original vegetable-related meaning, others may use it more explicitly or in a suggestive manner. Therefore, it is always important to consider the context and intended meaning when encountering the eggplant emoji in a message or online conversation.
In conclusion, the eggplant emoji has dual meanings in digital communication. Its primary meaning is associated with the vegetable itself, while its secondary meaning relates to sexuality and innuendo. Different individuals may interpret and use the eggplant emoji in various ways, ranging from innocent humor to more explicit or suggestive implications.
Images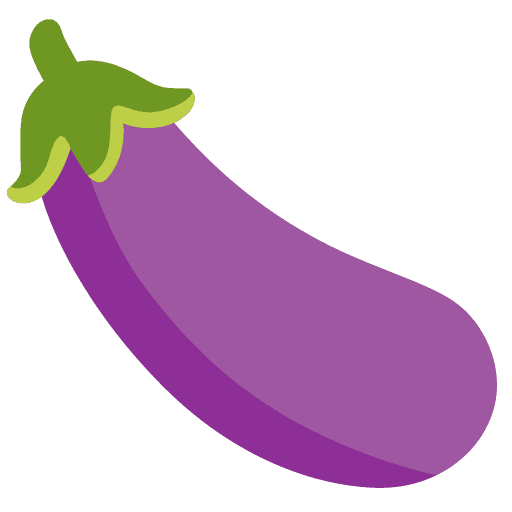 Google Noto Color Emoji
Twitter
Technical Information
| | |
| --- | --- |
| Emoji | 🍆 |
| Name | Eggplant |
| Codepoints | U+1F346 |