Backhand Index Pointing Left: Medium-dark Skin Tone
Meaning
The emoji "Backhand Index Pointing Left: Medium-dark Skin Tone" depicts a hand with the index finger extended and pointing towards the left. The skin tone is medium-dark, indicating a diverse representation. This emoji falls under the category of gestures and can be used to convey various meanings depending on the context and the intent of the user.
One of the primary meanings associated with this emoji is indicating direction or pointing to something on the left. It can be used in a conversation to guide someone's attention to the left side or to draw attention towards a particular object or direction located on the left. For example, if someone asks for directions to a building, this emoji can be used in response to guide them towards the left.
Another meaning of the "Backhand Index Pointing Left" emoji can be expressing disagreement or disapproval. By pointing to the left, it can be interpreted as rejecting or opposing something mentioned in the conversation. For instance, if someone makes a statement that you disagree with, this emoji can be used to express your dissent or objection.
Additionally, this emoji can also be used to signify decision-making or choosing a particular option from a group presented on the left. It can indicate a preference or selection towards an option on the left side, especially in situations where there are multiple choices to consider.
The medium-dark skin tone of this emoji is a visual representation of diversity and inclusion. It acknowledges and represents individuals with this specific skin tone, promoting the importance of inclusivity and equality.
It is worth noting that emoji meanings can be subjective and can vary based on cultural or personal interpretations. Therefore, understanding the specific context and the sender's intent is crucial in accurately deciphering the meaning behind the "Backhand Index Pointing Left: Medium-dark Skin Tone" emoji.
Images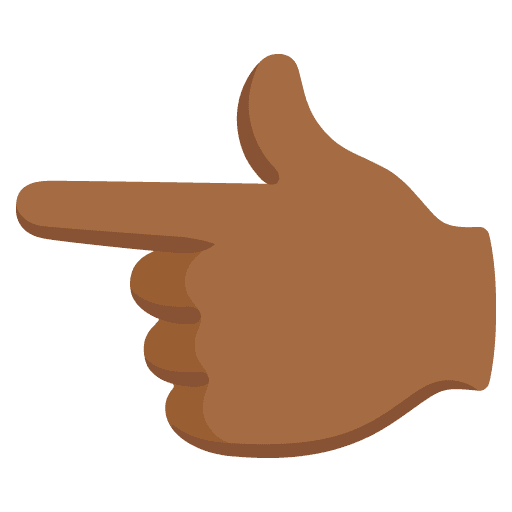 Google Noto Color Emoji
Twitter
Technical Information
| | |
| --- | --- |
| Emoji | 👈🏾 |
| Name | Backhand Index Pointing Left: Medium-dark Skin Tone |
| Codepoints | U+1F448 U+1F3FE |