Crossed Fingers: Dark Skin Tone
Meaning
The Crossed Fingers: Dark Skin Tone emoji is a variant of the 🤞 Crossed Fingers emoji, which represents the act of crossing one's fingers to show hope, luck, or a desire for something to happen. This particular variant includes a dark skin tone modifier, allowing users to choose a darker skin tone for the hand that is making the gesture.
The crossed fingers gesture has long been associated with wanting good luck or wishing for something positive to happen. It is often used when making a wish, asking for good fortune, or hoping for success. People might also use this emoji when they want to show support or express their belief in someone's aspirations or goals.
The addition of the dark skin tone modifier to the Crossed Fingers emoji helps to promote diversity and inclusivity in emoji representation. It allows individuals with darker skin tones to use an emoji that more accurately reflects their own appearance and identity.
In a broader context, the Crossed Fingers: Dark Skin Tone emoji can also be used metaphorically. It might represent the act of "crossing one's fingers" in a non-literal sense, such as hoping for a positive outcome in a situation, even when the odds are uncertain. It can convey a sense of optimism or anticipation, as well as the belief in the possibility of a desired outcome, despite potential challenges.
Overall, the Crossed Fingers: Dark Skin Tone emoji is a versatile symbol of hope, luck, support, and belief. Its inclusion of a dark skin tone provides a more inclusive representation, allowing individuals with darker skin tones to express themselves in digital communication.
Images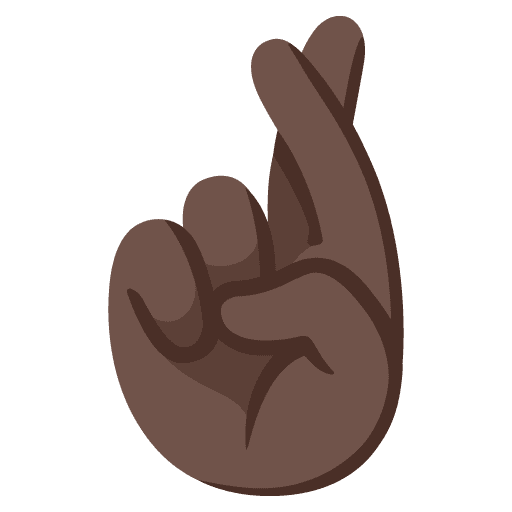 Google Noto Color Emoji
Twitter
Technical Information
| | |
| --- | --- |
| Emoji | 🤞🏿 |
| Name | Crossed Fingers: Dark Skin Tone |
| Codepoints | U+1F91E U+1F3FF |