Index Pointing At The Viewer: Medium-dark Skin Tone
Meaning
The "Index Pointing At The Viewer: Medium-dark Skin Tone" emoji is a representation of a hand pointing directly towards the viewer. The emoji includes a medium-dark skin tone, which is meant to reflect a range of skin colors typically found in individuals with medium to dark complexion.
This emoji is commonly used to draw attention to something specific or to emphasize a point in a conversation or text message. It can also be used as a gesture of acknowledgement or agreement with the viewer. In some cases, it may convey a sense of authority or assertiveness, as if the hand is directing the viewer's attention to something important.
This emoji can be used in a variety of contexts, such as when providing instructions or giving directions. For example, if someone asks for help with finding a location, you can use this emoji to point them in the right direction. Additionally, it can be used to indicate that you are referring to a specific person or object in a conversation.
The medium-dark skin tone variation of this emoji is part of the Unicode Consortium's efforts to promote diversity and inclusivity in emoji representation. By including various skin tones, the emoji aims to reflect the diverse range of individuals using these digital communication tools. The availability of different skin tone options allows users to choose an emoji that best represents themselves and their identities.
Overall, the "Index Pointing At The Viewer: Medium-dark Skin Tone" emoji is a versatile and inclusive representation of a hand gesture, which can convey different meanings depending on the context in which it is used.
Images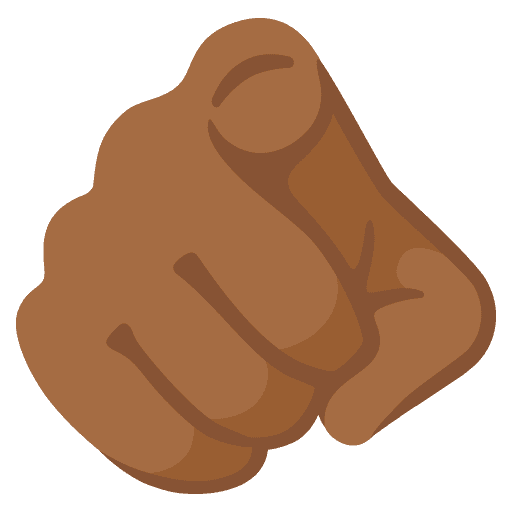 Google Noto Color Emoji
Twitter
Technical Information
| | |
| --- | --- |
| Emoji | 🫵🏾 |
| Name | Index Pointing At The Viewer: Medium-dark Skin Tone |
| Codepoints | U+1FAF5 U+1F3FE |