Man Gesturing OK: Medium-dark Skin Tone
Meaning
The Man Gesturing OK: Medium-dark Skin Tone emoji is a variation of the 👌 OK Hand emoji with a medium-dark skin tone. It depicts the silhouette of a man's hand with the thumb and forefinger forming a circle, while the other fingers are extended. This gesture is commonly used to signal approval, agreement, or satisfaction.
The medium-dark skin tone modifier adds a specific racial and ethnic context to the emoji, representing individuals with a slightly darker complexion. It is part of a range of skin tone options available for many human-related emojis, allowing users to reflect their own racial or ethnic identities or to express solidarity with those of different backgrounds.
When used in a conversation, the Man Gesturing OK: Medium-dark Skin Tone emoji can convey various meanings depending on the context. It can indicate that something is satisfactory, acceptable, or going well. For example, if someone asks if you are available for a meeting and you reply with this emoji, it shows your agreement or availability. It can also be used to give reassurance or show support to someone. For instance, if a friend shares good news, responding with this emoji signifies your congratulations and happiness for them.
Furthermore, the medium-dark skin tone modifier adds an additional layer of representation and inclusivity. By using this emoji, individuals with a medium-dark complexion can feel more seen and acknowledged within digital communication. It promotes diversity and provides a means for people to express their specific racial or ethnic backgrounds.
In summary, the Man Gesturing OK: Medium-dark Skin Tone emoji is a versatile symbol of approval or agreement. It allows users to communicate their acceptance or acknowledgement of something in a concise and visual manner. With the medium-dark skin tone modifier, it promotes inclusivity and representation by offering individuals of a specific racial or ethnic background an emoji that aligns with their identity.
Images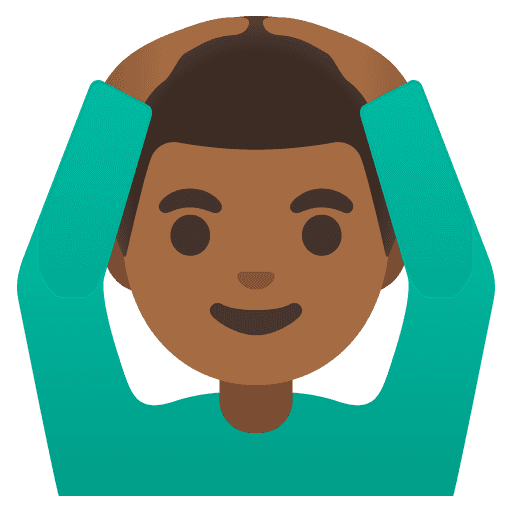 Google Noto Color Emoji
Twitter
Technical Information
| | |
| --- | --- |
| Emoji | 🙆🏾‍♂️ |
| Name | Man Gesturing OK: Medium-dark Skin Tone |
| Codepoints | U+1F646 U+1F3FE U+200D U+2642 U+FE0F |