Man in Steamy Room: Medium Skin Tone
Meaning
The Man in Steamy Room: Medium Skin Tone emoji depicts a representation of a man in a steamy room, with a medium skin tone. This emoji is part of the diverse set of skin tone variations available for various emojis, aiming to reflect the different skin tones and ethnicities of people.
The steamy room aspect of the emoji can symbolize different things depending on the context. Generally, it is associated with relaxation, comfort, and spa-like environments. The steam arising from the room may also evoke a sense of indulgence, self-care, or even a sauna or steam bath experience.
This emoji can be used to convey a variety of messages. It might illustrate that the person is taking a break, practicing self-care, or indulging in a spa treatment. It can also represent stress relief, unwinding, or finding solace in a calming atmosphere. The medium skin tone variation allows for more inclusive and accurate representation of individuals with this particular skin tone.
In conversations, this emoji might be used in discussions about personal wellness, mental and physical health, or treating oneself to a relaxing treat. It can also be employed to express moments of rest, recuperation, or simply acknowledging the need to take a breather from daily activities.
Overall, the Man in Steamy Room: Medium Skin Tone emoji is a versatile symbol that conveys the idea of relaxation, wellness, and finding solace in a calming environment, while also offering a more inclusive representation of individuals with a medium skin tone.
Images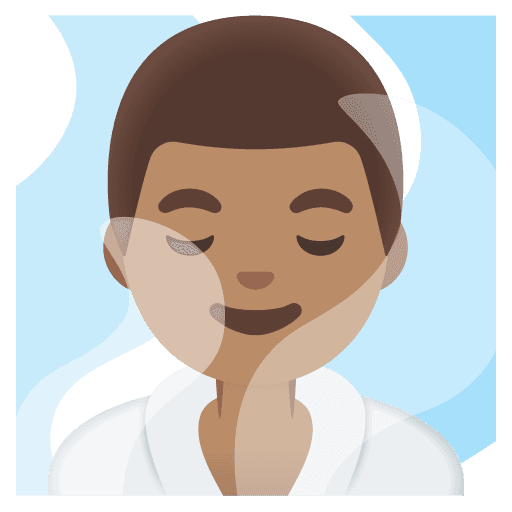 Google Noto Color Emoji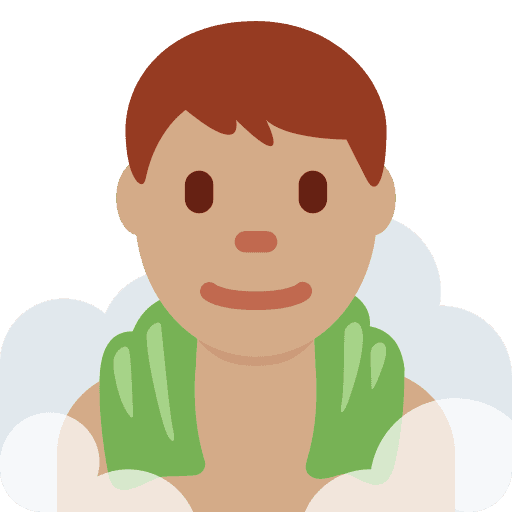 Twitter
Technical Information
| | |
| --- | --- |
| Emoji | 🧖🏽‍♂️ |
| Name | Man in Steamy Room: Medium Skin Tone |
| Codepoints | U+1F9D6 U+1F3FD U+200D U+2642 U+FE0F |