Man Shrugging: Medium-dark Skin Tone
Meaning
The Man Shrugging: Medium-Dark Skin Tone emoji depicts a man with medium-dark skin tone shrugging his shoulders. This emoji is part of the diverse set of emojis created to represent people of different skin tones and ethnic backgrounds, allowing users to express themselves with more accuracy and inclusivity in digital conversations.
The shrugging gesture itself is commonly used to convey a sense of uncertainty, confusion, or lack of knowledge about a particular situation or topic. It can also be used to indicate a feeling of helplessness or resignation. By combining the shrugging gesture with a specific skin tone, this emoji aims to ensure that all users, regardless of their race or ethnicity, can see themselves represented in the digital world and communicate their emotions effectively.
The medium-dark skin tone of the man in this emoji is an additional layer of representation, acknowledging and celebrating the diversity of skin tones within the global community. This feature allows users with medium-dark skin tones to feel more accurately represented and assert their cultural identity in their online expressions.
The Man Shrugging: Medium-Dark Skin Tone emoji can be used in a variety of situations. It can be employed to express confusion, uncertainty, or a lack of knowledge when faced with a challenging question or dilemma. For example, if someone asks a difficult trivia question, responding with this emoji could convey that the person doesn't know the answer. Similarly, if someone is unsure about a decision or has no opinion on a particular matter, they may use this emoji to express their uncertainty.
Furthermore, this emoji can also be used humorously to indicate a sense of resignation or helplessness in a humorous or sarcastic manner. For instance, if someone asks for advice on a problem that seems unsolvable, responding with this emoji could imply that the person is giving up or acknowledging the impossibility of finding a solution.
In summary, the Man Shrugging: Medium-Dark Skin Tone emoji represents a man with medium-dark skin tone shrugging his shoulders, and it is used to convey various emotions such as confusion, uncertainty, and resignation. Its inclusion of specific skin tones aims to promote diversity and inclusivity in digital communication, ensuring that people of different ethnic backgrounds can express themselves accurately and feel represented.
Images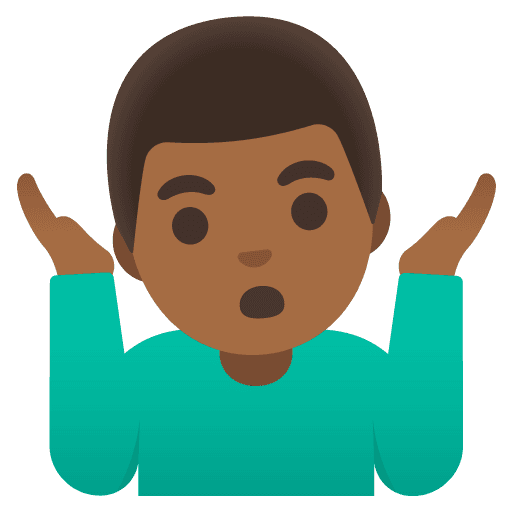 Google Noto Color Emoji
Twitter
Technical Information
| | |
| --- | --- |
| Emoji | 🤷🏾‍♂️ |
| Name | Man Shrugging: Medium-dark Skin Tone |
| Codepoints | U+1F937 U+1F3FE U+200D U+2642 U+FE0F |