Man Tipping Hand: Medium-light Skin Tone
Meaning
The emoji "Man Tipping Hand: Medium-light Skin Tone" depicts a male figure with a medium-light skin tone tipping his hand in a somewhat sassy or playful gesture. This emoji is meant to convey a specific set of meanings and emotions, providing a visual representation of a situation in which a person might use this gesture.
Firstly, the gesture itself involves tipping one's hand or tilting it slightly to the side. This action can be seen as a somewhat coy or teasing movement, often used when someone wants to express mild skepticism, doubt, or amusement. It can also convey a sense of playfulness or mischief.
The medium-light skin tone modifier in this emoji is an important feature, as it adds a layer of personalization and diversity. The different skin tone options available for emojis aim to promote inclusivity and represent a wider range of ethnicities and races.
The overall meaning of the "Man Tipping Hand: Medium-light Skin Tone" emoji can be interpreted in various ways, depending on the context and the user's intent. It could represent someone playfully joking or teasing others, expressing mild skepticism or doubt, or even signaling a humorous contradiction. It can also be used as a response to something surprising or unexpected, adding a touch of sarcasm or irony to the message.
In short, the "Man Tipping Hand: Medium-light Skin Tone" emoji is a versatile and expressive symbol that can convey different emotions such as playfulness, skepticism, or amusement, depending on the situation and the user's intent. Its medium-light skin tone adds an element of diversity and personalization to the emoji, allowing for representation and inclusivity in digital communications.
Images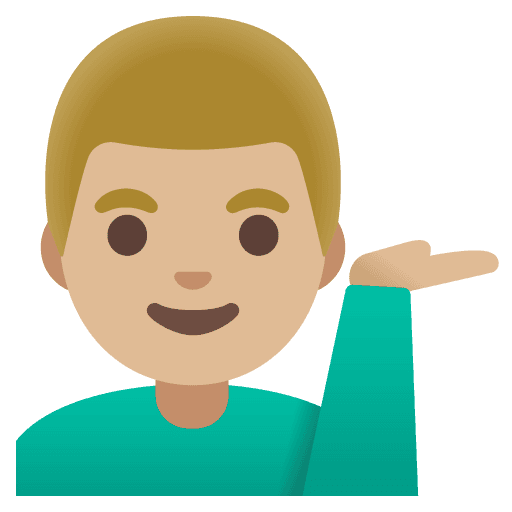 Google Noto Color Emoji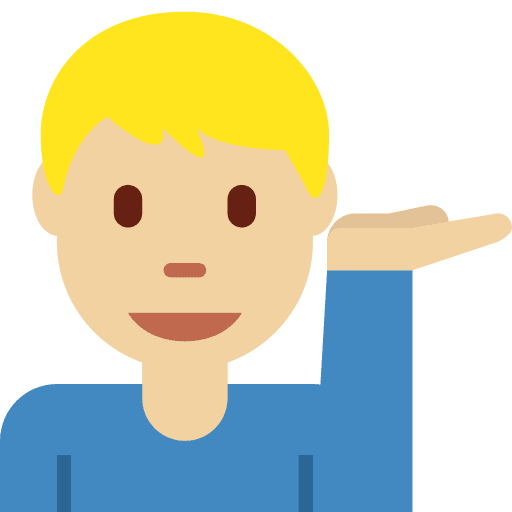 Twitter
Technical Information
| | |
| --- | --- |
| Emoji | 💁🏼‍♂️ |
| Name | Man Tipping Hand: Medium-light Skin Tone |
| Codepoints | U+1F481 U+1F3FC U+200D U+2642 U+FE0F |