Person Bowing: Dark Skin Tone
Meaning
The Person Bowing: Dark Skin Tone emoji depicts an individual with dark skin tone bowing down. This emoji is a variation of the Person Bowing emoji, with the addition of a specific skin tone. It is commonly used to convey various meanings and sentiments in digital communication.
One of the main interpretations of this emoji is showing respect or appreciation towards someone or something. It can be used to express gratitude or admiration towards an individual, a group, or even a concept. By bowing down, the person in the emoji demonstrates a gesture of humility, reverence, or deference.
Another possible meaning of this emoji is apologizing or seeking forgiveness. It can be used to convey a sense of remorse or regret for something that was done wrong or offensive. By bowing down, the person expresses their sincerity and willingness to make amends.
The Person Bowing: Dark Skin Tone emoji can also be used to emphasize politeness or humility in a request or a statement. By utilizing this emoji, the sender suggests that they are being respectful and considerate in their interaction.
Additionally, this emoji can be used to represent a bow in a cultural or religious context. It may signify participating in a traditional ceremony or symbolize observance of a particular custom or practice.
As with all emojis, the meaning of the Person Bowing: Dark Skin Tone emoji can vary depending on the context and the accompanying text. It is important to consider the overall conversation and the intended message before interpreting this emoji.
Images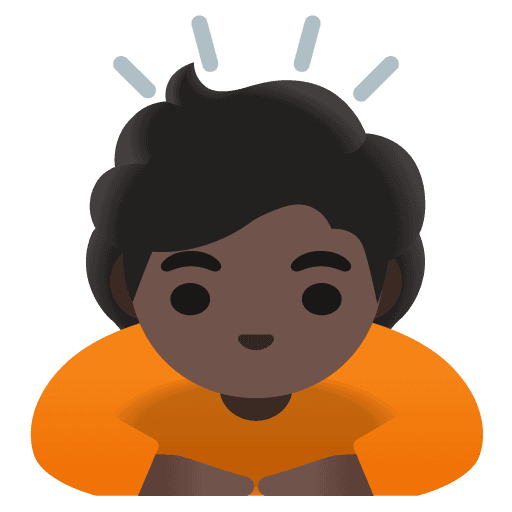 Google Noto Color Emoji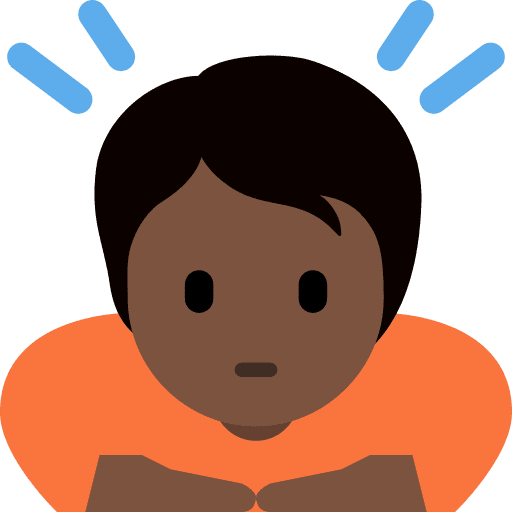 Twitter
Technical Information
| | |
| --- | --- |
| Emoji | 🙇🏿 |
| Name | Person Bowing: Dark Skin Tone |
| Codepoints | U+1F647 U+1F3FF |