Person Frowning: Medium-light Skin Tone
Meaning
The Person Frowning: Medium-Light Skin Tone emoji depicts a human face with a frowning expression and medium-light skin tone. This emoji is part of a set of emojis known as the "person frowning" series, which represents various facial expressions and skin tones.
The frowning expression in this emoji indicates sadness, disappointment, or dissatisfaction. It conveys a negative or unhappy mood and can be used to express feelings of frustration, annoyance, or displeasure. The intensity of the frown may vary depending on the context and the sender's intention.
The medium-light skin tone variation of this emoji allows users to represent individuals with a specific skin tone. By incorporating different skin tones, emojis aim to promote diversity and inclusivity, reflecting the multicultural world we live in. It recognizes that people come from various racial and ethnic backgrounds, and that their identities and experiences should be acknowledged and celebrated.
In everyday conversations, the Person Frowning: Medium-Light Skin Tone emoji can be used to express personal dissatisfaction or disappointment with a situation. For example, if someone receives disappointing news or experiences a setback, they may use this emoji to convey their negative emotions. It can also be used to empathize with someone else who is going through a tough time or feeling down.
As with any emoji, the meaning of the Person Frowning: Medium-Light Skin Tone emoji can be subjective and influenced by the context in which it is used. The accompanying text, the sender's tone, and the preceding conversation can all provide clues to its intended meaning. It is important to remember that emojis are a form of visual communication and should be interpreted with consideration for the broader conversational context.
Images
Google Noto Color Emoji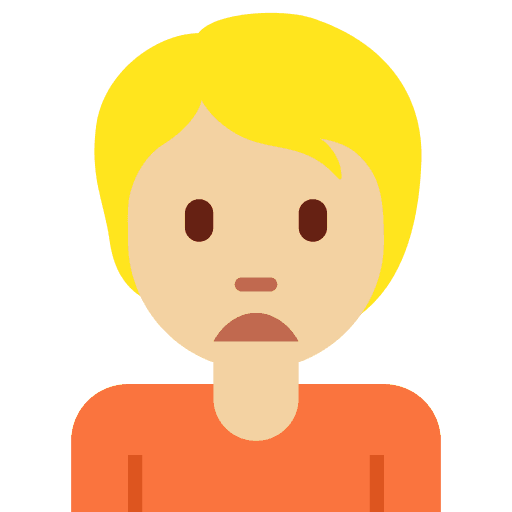 Twitter
Technical Information
| | |
| --- | --- |
| Emoji | 🙍🏼 |
| Name | Person Frowning: Medium-light Skin Tone |
| Codepoints | U+1F64D U+1F3FC |