Person Gesturing NO: Light Skin Tone
Meaning
The "Person Gesturing NO: Light Skin Tone" emoji depicts a person with a light skin tone making a hand gesture that signifies the word "no." The emoji has various interpretations, but it primarily conveys the idea of denial or refusal.
The person in the emoji is shown with light skin tone, which is one of the many skin tone options included within the Unicode Standard. The skin tone modifiers were introduced to promote inclusivity and allow users to choose an emoji that represents their own skin tone.
When this emoji is used, it typically indicates a negative response or disagreement with a particular statement or request. It can be employed in both casual and formal contexts, depending on the nature of the communication. For example, if someone asks if you would like to join them for a movie, you can reply with this emoji to express your refusal or lack of interest.
Furthermore, the gesture depicted by the raised hand with the palm facing forward and fingers extended is universally recognized as a sign of denial or negation. The positioning of the hand suggests a clear message of disagreement or rejection.
In addition to expressing refusal, the "Person Gesturing NO: Light Skin Tone" emoji can also convey a sense of frustration, disappointment, or dissatisfaction. It can be used to indicate disapproval or disapprovingly reject an idea, action, or proposal. For instance, if someone suggests a plan that you strongly disagree with, you can respond with this emoji to express your disagreement or disappointment.
It is important to note that the interpretation of emojis can vary depending on the context and the relationship between the communicators. Understanding the context and audience is key to accurately interpreting the intended meaning behind the "Person Gesturing NO: Light Skin Tone" emoji.
Images
Google Noto Color Emoji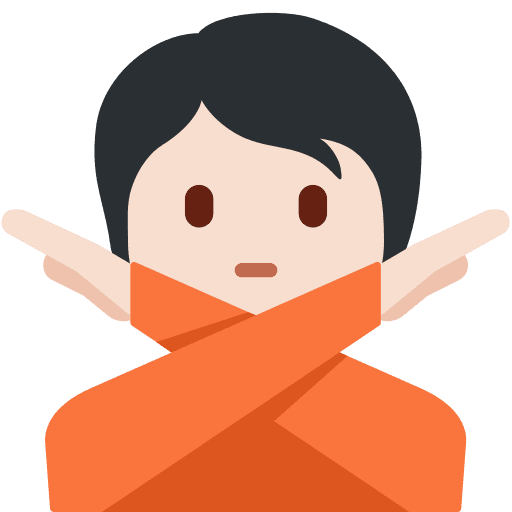 Twitter
Technical Information
| | |
| --- | --- |
| Emoji | 🙅🏻 |
| Name | Person Gesturing NO: Light Skin Tone |
| Codepoints | U+1F645 U+1F3FB |