Person Gesturing OK: Medium-dark Skin Tone
Meaning
The Person Gesturing OK: Medium-dark Skin Tone emoji depicts a person with a medium-dark skin tone holding their thumb and index finger together to create an "OK" hand gesture. The emoji conveys a sense of approval, agreement, or satisfaction. It is often used to indicate that something is going well or is deemed acceptable. The skin tone modifier in this particular emoji allows for representation and inclusivity, as it offers a variation with a medium-dark complexion.
When used in conversation, this emoji can express a positive sentiment towards a certain event, action, or statement. It is commonly used as a way to show agreement or support, similar to giving someone a thumbs-up sign. It can also be utilized to give reassurance or encouragement to someone, letting them know that everything is going well or that they are doing a good job.
In addition to its literal meaning, this emoji can also be employed in a sarcastic or ironic manner. For example, if someone shares a questionable or outrageous idea, responding with this emoji might indicate that their suggestion is not actually valid or acceptable.
Overall, the Person Gesturing OK: Medium-dark Skin Tone emoji portrays positivity, agreement, and approval, asserting that things are going well or meeting the desired standards.
Images
Google Noto Color Emoji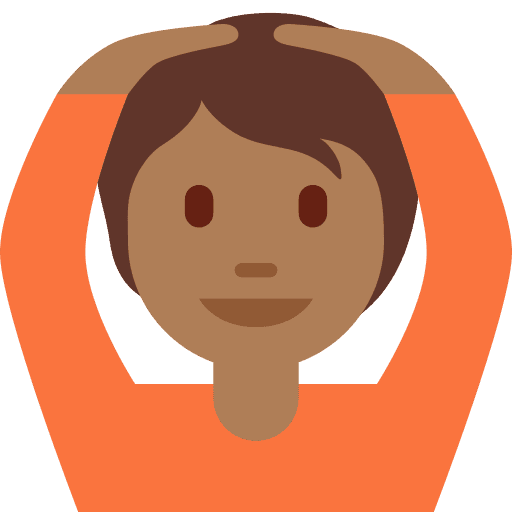 Twitter
Technical Information
| | |
| --- | --- |
| Emoji | 🙆🏾 |
| Name | Person Gesturing OK: Medium-dark Skin Tone |
| Codepoints | U+1F646 U+1F3FE |