Person in Motorized Wheelchair: Medium Skin Tone
Meaning
The emoji Person in Motorized Wheelchair: Medium Skin Tone depicts a person with a medium skin tone seated in a motorized wheelchair. This emoji is part of the Unicode 12.0 update and was introduced in 2019. It falls under the category of people emojis and represents individuals who use a motorized wheelchair for mobility due to physical disabilities or impairments.
The medium skin tone modifier in this emoji adds a specific skin tone to the default yellow color. This allows users to choose a skin tone that closely represents their own or the person they are referring to. The medium skin tone modifier enhances the diversity and inclusivity of the emoji by reflecting a wider range of human appearances.
This emoji is significant as it represents the experiences and challenges faced by individuals with physical disabilities. It may be used to convey different messages and sentiments. It can symbolize empowerment, independence, and resilience, as it depicts a person using a motorized wheelchair to navigate their surroundings. It can also be used to raise awareness and promote inclusivity for individuals with disabilities in society.
In the context of communication, this emoji can be used to indicate accessibility or discuss topics related to disability rights. It can be used to express support, empathy, or encouragement towards individuals who use motorized wheelchairs. Additionally, it can be used to depict oneself or someone else who uses a motorized wheelchair.
Overall, the Person in Motorized Wheelchair: Medium Skin Tone emoji represents individuals who utilize motorized wheelchairs for mobility and promotes inclusivity and diversity in emoji representation. It is an important symbol for creating awareness and understanding of the experiences of individuals with physical disabilities.
Images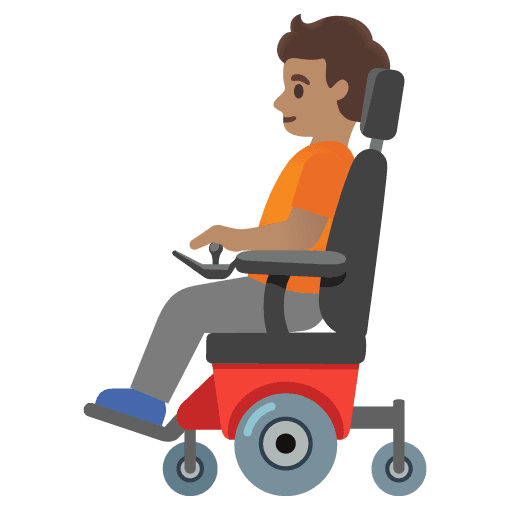 Google Noto Color Emoji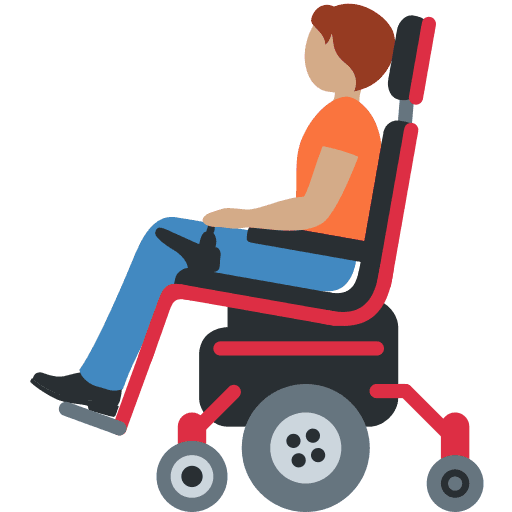 Twitter
Technical Information
| | |
| --- | --- |
| Emoji | 🧑🏽‍🦼 |
| Name | Person in Motorized Wheelchair: Medium Skin Tone |
| Codepoints | U+1F9D1 U+1F3FD U+200D U+1F9BC |