Person Shrugging: Medium-dark Skin Tone
Meaning
The Person Shrugging: Medium-dark Skin Tone emoji depicts a person with medium-dark skin tone raising their shoulders and lifting their arms slightly, with their palms facing upwards, in a gesture of uncertainty or confusion. This emoji is part of the set of emojis representing the various skin tones available for the person shrugging gesture.
The primary meaning of the Person Shrugging: Medium-dark Skin Tone emoji is to convey a sense of confusion, uncertainty, or ignorance about a particular situation or topic. It is often used to express the feeling of being clueless or not knowing the answer to a question. The raised shoulders and raised palms suggest a lack of knowledge or understanding, emphasizing the person's uncertainty.
In addition to its literal meaning, the Person Shrugging: Medium-dark Skin Tone emoji can also be used more sarcastically or humorously. It can express a sense of indifference, disinterest, or nonchalance, especially when used in response to a question or statement that the person finds unimportant or irrelevant.
The medium-dark skin tone variant of this emoji specifically represents individuals with medium-dark skin tones, adding diversity and inclusivity to the emoji set. By offering different skin tone options, emojis aim to reflect the diversity of human appearances and ensure that people from various racial and ethnic backgrounds can find representation in the digital world.
Overall, the Person Shrugging: Medium-dark Skin Tone emoji is a versatile emoji that can be interpreted in different ways depending on the context. It is commonly used to express confusion, uncertainty, indifference, or a lack of knowledge, while also promoting diversity and inclusivity through its medium-dark skin tone representation.
Images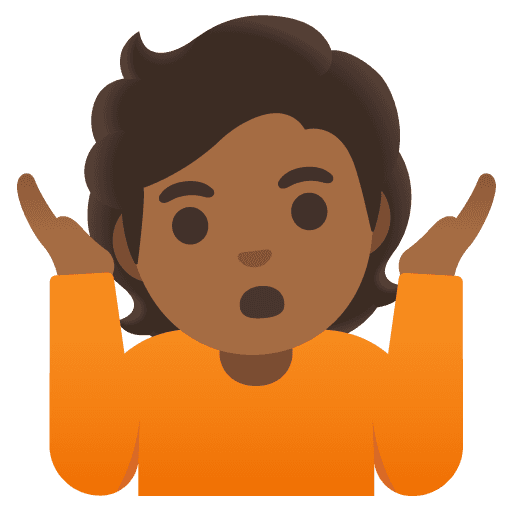 Google Noto Color Emoji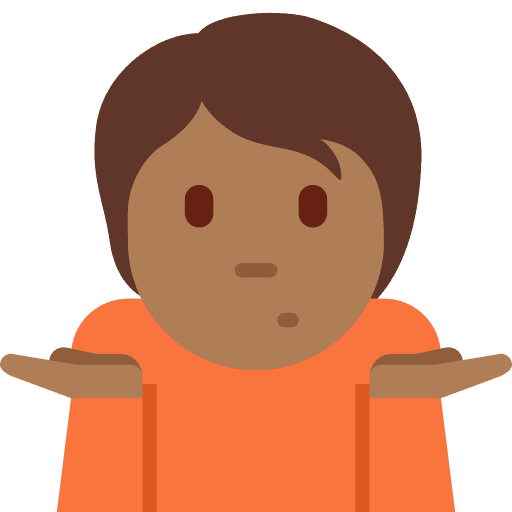 Twitter
Technical Information
| | |
| --- | --- |
| Emoji | 🤷🏾 |
| Name | Person Shrugging: Medium-dark Skin Tone |
| Codepoints | U+1F937 U+1F3FE |