Person Tipping Hand: Dark Skin Tone
Meaning
The Person Tipping Hand: Dark Skin Tone emoji is a representation of a person tipping their hand or tilting their head with a gesture that implies confidence, knowledge, or slyness. The dark skin tone modifier denotes that the person in the emoji has dark skin.
This emoji can have several meanings depending on the context. In a casual conversation, it can indicate a sense of mischief or playfulness, similar to saying "I know something you don't know." It can also be used to convey a feeling of subtle suggestion or insinuation. For example, if someone asks for advice, this emoji could be used to imply that the person has a clever or sneaky idea.
Another possible interpretation is that the person in the emoji is expressing confidence or assurance. This can be seen as a way of nonchalantly emphasizing one's intelligence or expertise on a particular subject, or as a show of self-assurance in general. It can be used to celebrate a personal achievement or to mockingly show off one's superior knowledge.
Moreover, the gesture itself can also convey a sense of elegance or sophistication. By tilting the head or tipping the hand, the person in the emoji exudes an air of grace and refinement. This can be used to represent an individual who is well-mannered, poised, or not easily flustered.
Overall, the Person Tipping Hand: Dark Skin Tone emoji is versatile and can be interpreted in various ways depending on the context and personal interpretation. It can signify playfulness, confidence, knowledge, slyness, elegance, or a combination of these qualities.
Images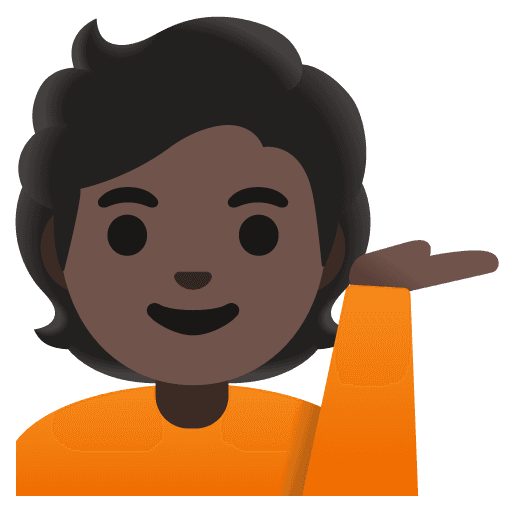 Google Noto Color Emoji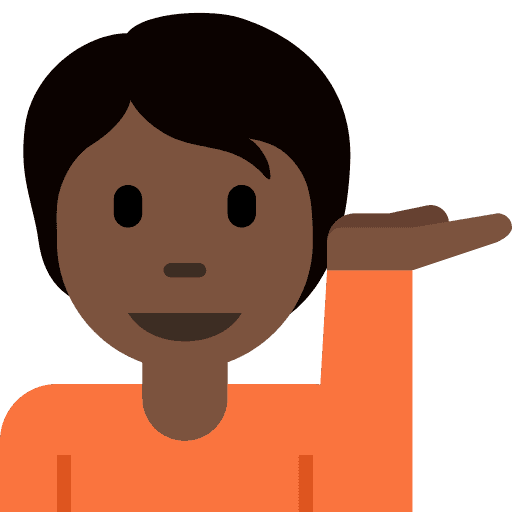 Twitter
Technical Information
| | |
| --- | --- |
| Emoji | 💁🏿 |
| Name | Person Tipping Hand: Dark Skin Tone |
| Codepoints | U+1F481 U+1F3FF |