Woman Getting Massage: Medium-light Skin Tone
Meaning
The Woman Getting Massage: Medium-light Skin Tone emoji depicts a woman receiving a massage, specifically with medium-light skin tone. This emoji is commonly used to represent relaxation, self-care, and treating oneself to a soothing or therapeutic activity. It can also convey the idea of stress relief or taking a break from daily responsibilities.
When someone uses this emoji, they may be expressing the need to unwind, relieve tension, or rejuvenate both the body and mind. It can suggest the desire for some pampering or the enjoyment of a spa day. This emoji is often used in the context of promoting mental and physical well-being, as well as discussing different forms of therapy or wellness practices.
Additionally, the Woman Getting Massage emoji can be used to communicate the idea of seeking comfort or solace after a long and tiring day. It can symbolize the importance of self-care and taking time for oneself to recharge and prioritize personal wellness. This can be especially relevant in today's busy and stressful society, where individuals often feel overwhelmed by various responsibilities and obligations.
Overall, the Woman Getting Massage: Medium-light Skin Tone emoji conveys a range of meanings related to relaxation, self-care, stress relief, and indulging in a therapeutic or comforting experience. It serves as a representation of the importance of prioritizing one's well-being and finding moments of rest and rejuvenation amidst the demands of daily life.
Images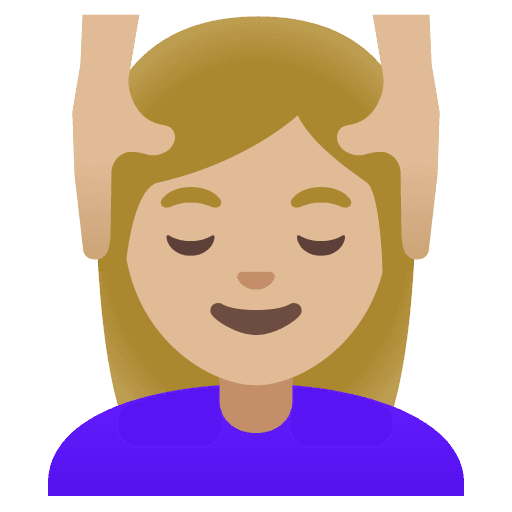 Google Noto Color Emoji
Twitter
Technical Information
| | |
| --- | --- |
| Emoji | 💆🏼‍♀️ |
| Name | Woman Getting Massage: Medium-light Skin Tone |
| Codepoints | U+1F486 U+1F3FC U+200D U+2640 U+FE0F |