Woman in Manual Wheelchair: Medium-dark Skin Tone
Meaning
The "Woman in Manual Wheelchair: Medium-dark Skin Tone" emoji depicts a female figure seated in a manual wheelchair, with a medium-dark skin tone. This emoji is a representation of accessibility and inclusivity for people with disabilities, specifically focusing on wheelchair users.
One possible interpretation of this emoji is as a symbol of empowerment and independence for women with disabilities. The image of a woman in a wheelchair implies that she is capable and self-reliant, actively participating in society despite any physical challenges she may face. This emoji can serve as a reminder of the strength and resilience of individuals with disabilities, highlighting their ability to navigate the world and engage in various activities.
Additionally, this emoji can also be seen as a symbol of awareness and advocacy for disability rights. By including representations of people with disabilities in our digital communication, we send a message of inclusion and respect. This emoji serves as a reminder to consider and accommodate the diverse needs and experiences of individuals with disabilities in our society.
Furthermore, the medium-dark skin tone variation of this emoji demonstrates the importance of racial diversity within the disabled community. It acknowledges the existence and needs of wheelchair users from various ethnic backgrounds, promoting representation and giving a voice to typically marginalized groups.
Overall, the "Woman in Manual Wheelchair: Medium-dark Skin Tone" emoji represents inclusivity, empowerment, advocacy, and diversity within the disability community. It serves as a reminder to prioritize accessibility and equal opportunities for all individuals, regardless of their physical abilities or racial backgrounds.
Images
Google Noto Color Emoji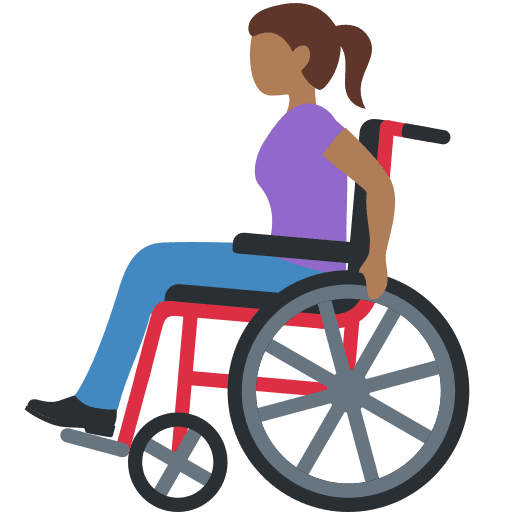 Twitter
Technical Information
| | |
| --- | --- |
| Emoji | 👩🏾‍🦽 |
| Name | Woman in Manual Wheelchair: Medium-dark Skin Tone |
| Codepoints | U+1F469 U+1F3FE U+200D U+1F9BD |