Woman Raising Hand: Dark Skin Tone
Meaning
The Woman Raising Hand: Dark Skin Tone emoji depicts a female character with dark skin tone raising her hand. This emoji is often used to represent a woman actively participating or engaging in a conversation, asking a question, or indicating that she has something to say or contribute.
One of the key aspects of this emoji is the action of raising the hand. In many cultures, raising one's hand is a universal gesture used to get attention, express a desire to speak, or signal involvement in a discussion or activity. Therefore, the Woman Raising Hand emoji can be interpreted as a way to capture this action and convey similar intentions in digital communication.
The choice to add a dark skin tone option to this emoji is significant as it aims to provide representation and inclusivity. The availability of diverse skin tone options in emoji plays a crucial role in promoting diversity and reflecting the multicultural world we live in. In this case, the dark skin tone option allows individuals to express themselves with an emoji that best represents their own identity.
Overall, the Woman Raising Hand: Dark Skin Tone emoji represents an active and engaged female character with dark skin tone who is eager to contribute or participate in a dialogue. It not only captures a common gesture used in everyday communication but also promotes diversity and inclusivity by providing a representation option for individuals with dark skin tones.
Images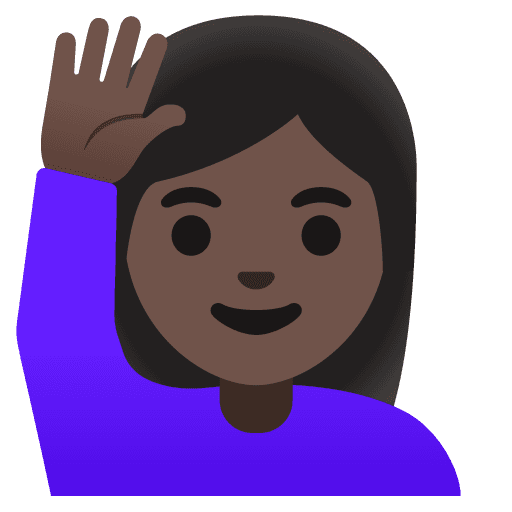 Google Noto Color Emoji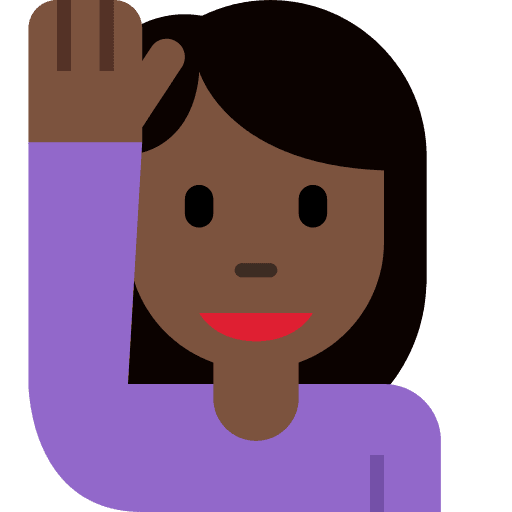 Twitter
Technical Information
| | |
| --- | --- |
| Emoji | 🙋🏿‍♀️ |
| Name | Woman Raising Hand: Dark Skin Tone |
| Codepoints | U+1F64B U+1F3FF U+200D U+2640 U+FE0F |