Woman Walking: Medium-light Skin Tone
Meaning
The Woman Walking: Medium-light Skin Tone emoji depicts an illustrated image of a woman in a walking position. The emoji builder allows users to select different skin tones to represent diversity. In this specific variation, the woman has a medium-light skin tone, indicating a complexion that is slightly lighter than the average skin tone.
This emoji can be used to represent various concepts and ideas. Firstly, it can simply indicate that someone is walking or going for a stroll. It can be used in messages to convey actions such as exercise, leisurely walks, or daily routines. For example, if someone asks what you're doing, you can respond with this emoji to indicate that you are currently walking or going for a walk.
Additionally, this emoji can be used to symbolize independence, freedom, and self-care. Walking is often associated with getting fresh air, clearing one's mind, and taking some time for oneself. By using this emoji in a sentence or message, one can convey the idea of taking a break or focusing on personal well-being.
Moreover, the Woman Walking: Medium-light Skin Tone emoji can also be utilized to represent feminism or supporting women's rights. It can be used in discussions or posts related to women empowerment, women's achievements, or events that aim to celebrate and support women. By including this emoji in such contexts, one can express solidarity or engagement in conversations about gender equality.
Overall, the Woman Walking: Medium-light Skin Tone emoji is a versatile symbol that can convey actions, personal well-being, leisure, and support for women. Its interpretation can vary depending on the context and the user's intention, but it generally expresses movement, independence, and inclusivity.
Images
Google Noto Color Emoji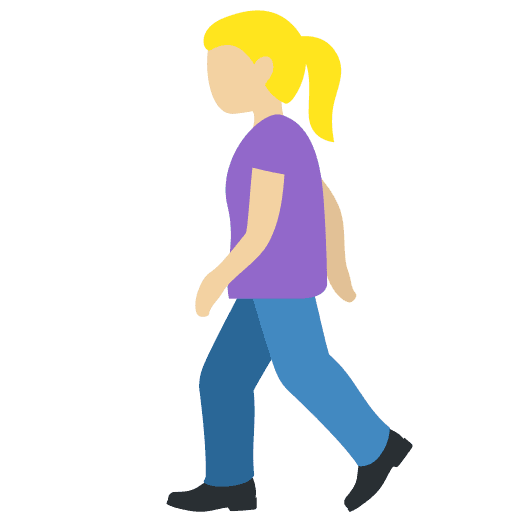 Twitter
Technical Information
| | |
| --- | --- |
| Emoji | 🚶🏼‍♀️ |
| Name | Woman Walking: Medium-light Skin Tone |
| Codepoints | U+1F6B6 U+1F3FC U+200D U+2640 U+FE0F |