Woman with White Cane: Medium Skin Tone
Meaning
The Woman with White Cane emoji depicts a female individual with a medium skin tone using a white cane. This emoji symbolizes a visually impaired woman who relies on the white cane as a tool for navigation and mobility. The medium skin tone modifier indicates her racial or ethnic background, adding a layer of inclusivity and representation.
The white cane itself is an important symbol in the disabled community and is recognized globally as a symbol of visual impairment. It serves as a tool for individuals with visual impairments to detect obstacles and navigate their surroundings. By including the white cane in this emoji, it represents the specific experiences and challenges faced by visually impaired women.
The Woman with White Cane emoji demonstrates the importance of representation and inclusivity in digital communication. By featuring a woman with a medium skin tone, it acknowledges and celebrates the diversity within the visually impaired community. It promotes a sense of visibility for visually impaired women, increasing awareness and understanding of their experiences and needs.
This emoji can be used in various contexts to support conversations related to disabilities, accessibility, and inclusivity. It can be utilized to express empathy, support, or solidarity towards visually impaired women. Additionally, it can serve as a symbol of representation and empowerment for individuals who identify with this emoji or advocate for disability rights.
Overall, the Woman with White Cane: Medium Skin Tone emoji represents a visually impaired woman with a medium skin tone who relies on a white cane for mobility. It embodies inclusivity, representation, and awareness of the experiences and needs of visually impaired women.
Images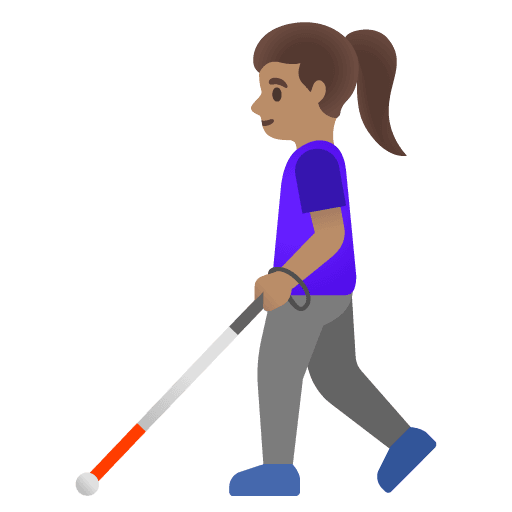 Google Noto Color Emoji
Twitter
Technical Information
| | |
| --- | --- |
| Emoji | 👩🏽‍🦯 |
| Name | Woman with White Cane: Medium Skin Tone |
| Codepoints | U+1F469 U+1F3FD U+200D U+1F9AF |