Wind Chime
Meaning
The wind chime emoji depicts a traditional Japanese wind chime hanging from a wooden arm. It consists of a rounded or bell-shaped object with multiple metal tubes or rods attached to it. The tubes are designed to create a melodious sound when they come into contact with each other or with the wind. The wind chime is typically made of materials such as glass, metal, or bamboo.
Symbolically, the wind chime emoji represents tranquility, harmony, and serenity. Wind chimes are often associated with peaceful environments, such as gardens or outdoor spaces, where they are hung to create a pleasant atmosphere. Due to their soothing and calming sounds, wind chimes are believed to bring a sense of relaxation and calmness, helping to reduce stress and anxiety.
The wind chime emoji can also convey a sense of mindfulness and meditation. The gentle tinkling sound produced by the chimes can serve as a reminder to be present in the moment and to focus on the here and now. By evoking a sense of mindfulness, the wind chime emoji suggests the importance of taking a break from the chaos of daily life and finding inner peace.
In addition to its symbolic meaning, the wind chime emoji can be used in a more practical sense, indicating that the weather is windy or breezy. In this context, it can be used to describe the weather conditions or to convey a sense of movement or change.
Overall, the wind chime emoji represents more than just a simple decorative object. It conveys a deeper meaning, reminding us to embrace tranquility, find inner peace, and appreciate the beauty of the world around us.
Images
Google Noto Color Emoji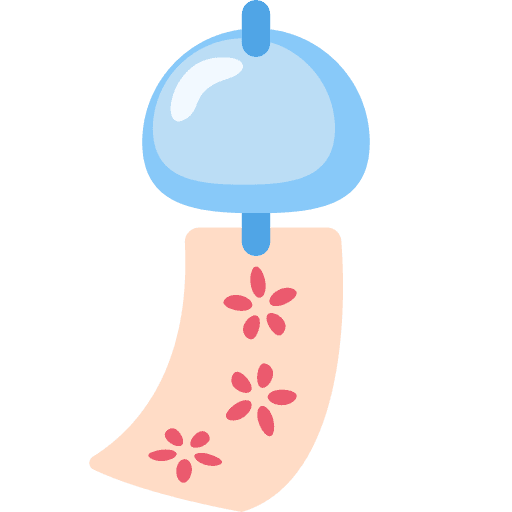 Twitter
Technical Information
| | |
| --- | --- |
| Emoji | 🎐 |
| Name | Wind Chime |
| Codepoints | U+1F390 |