Man Dancing: Medium-dark Skin Tone
Meaning
The emoji Man Dancing: Medium-dark Skin Tone depicts a male figure in a dancing pose with a medium-dark skin tone. The purpose of this emoji is to convey the idea of dancing or celebration in the context of male individuals with medium-dark skin tones. It is one of the variations of the Man Dancing emoji, which is available in different skin tones to represent diverse human appearances.
When used in a text message or social media post, the Man Dancing: Medium-dark Skin Tone emoji can indicate various things depending on the context. Primarily, it conveys a sense of joy, enthusiasm, and excitement. It can be used to express the feeling of having a good time at a party, concert, or any other festive event. For example, if someone is looking forward to going out dancing with friends, they might use this emoji to illustrate their anticipation and eagerness.
In addition to its general usage for celebration and enjoyment, the Man Dancing: Medium-dark Skin Tone emoji can also represent specific dance styles or genres. It can be used to express the love for dancing or to indicate that someone is currently engaged in a particular type of dance. For instance, if someone is practicing or performing hip-hop, salsa, or any other style, they might attach this emoji to their message.
Furthermore, this emoji can be used to express admiration for someone's dance skills or to compliment their moves. It can be employed to show support or encouragement for someone who is pursuing a career or hobby related to dancing. In this sense, the emoji demonstrates recognition and appreciation for the art of dance.
Overall, the Man Dancing: Medium-dark Skin Tone emoji serves as a representation of cheerfulness, exuberance, and passion for dance. Its specific skin tone variation adds diversity to its usage, allowing for more realistic and inclusive representations of individuals of different ethnic backgrounds.
Images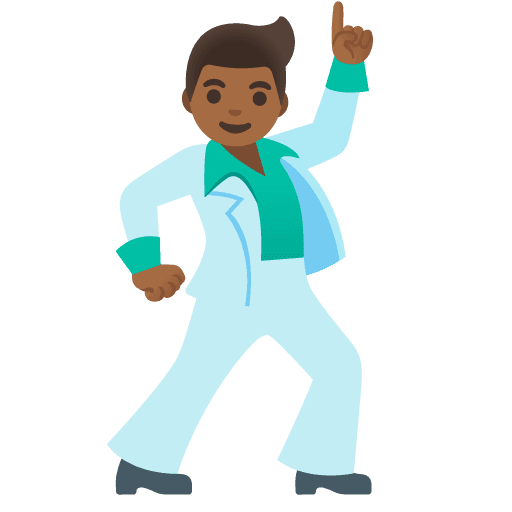 Google Noto Color Emoji
Twitter
Technical Information
| | |
| --- | --- |
| Emoji | 🕺🏾 |
| Name | Man Dancing: Medium-dark Skin Tone |
| Codepoints | U+1F57A U+1F3FE |