Man Dancing: Medium-light Skin Tone
Meaning
The Man Dancing: Medium-Light Skin Tone emoji depicts a male figure in a dancing pose with a medium-light skin tone. This emoji is often used to represent a man dancing or celebrating joyfully. Its overall meaning can be interpreted as a symbol of excitement, happiness, and a lighthearted mood.
The emoji shows a man with his arms raised in the air and one leg lifted, suggesting a dynamic and energetic dance move. The medium-light skin tone indicates the race or ethnicity of the person, adding a touch of inclusivity to the emoji's meaning.
Social media users often employ this emoji to express a sense of joy or celebration in their posts. It can be used in various contexts such as sharing good news, celebrating a milestone, or expressing enthusiasm for an upcoming event or party. Additionally, it can be used to convey a general sense of positivity and fun.
In some instances, the Man Dancing: Medium-Light Skin Tone emoji can also be used humorously to depict someone who is awkward or clumsy while dancing. It can be a playful way to tease someone or make light of a less-than-graceful dance performance.
Overall, the Man Dancing: Medium-Light Skin Tone emoji is a versatile emoji that reflects feelings of joy, celebration, and excitement. Its inclusion of a specific skin tone adds an element of representation and diversity, enhancing its relevance in multicultural contexts.
Images
Google Noto Color Emoji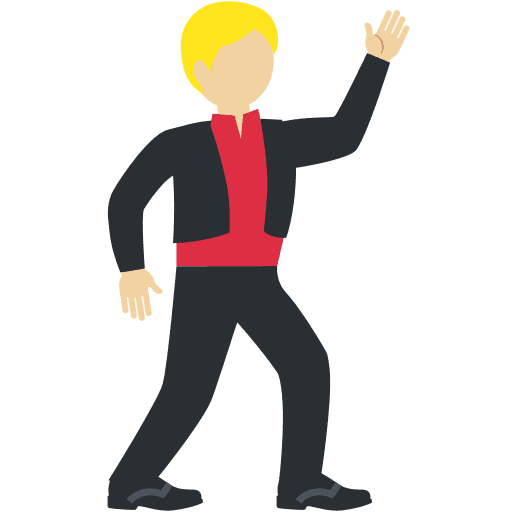 Twitter
Technical Information
| | |
| --- | --- |
| Emoji | 🕺🏼 |
| Name | Man Dancing: Medium-light Skin Tone |
| Codepoints | U+1F57A U+1F3FC |