Man in Motorized Wheelchair: Dark Skin Tone
Meaning
The Man in Motorized Wheelchair: Dark Skin Tone emoji depicts a person using a motorized wheelchair and has a dark skin tone. This emoji is part of the diverse set of emojis introduced to represent different skin tones and promote inclusivity.
The emoji shows a person sitting in a motorized wheelchair, which is a common mobility aid for individuals who have difficulty walking or have limited mobility. The wheelchair is often electrically powered and operated by a joystick or buttons, allowing users to have greater independence and mobility.
The dark skin tone variation of this emoji represents individuals with darker skin tones, contributing to the efforts of emoji modifiers to reflect a wider range of diverse skin tones. It is important to note that skin tone modifiers are not intended to convey any racial or ethnic meaning, but rather to represent the diversity and inclusivity of people of all skin tones.
The Man in Motorized Wheelchair: Dark Skin Tone emoji can be used to illustrate someone who relies on a motorized wheelchair for mobility. It can be used in online conversations and social media posts to discuss topics related to accessibility, disability, or inclusivity. For example, it can be used to express support for people with disabilities, raise awareness about accessibility issues, or celebrate the achievements of individuals who use motorized wheelchairs.
Overall, the Man in Motorized Wheelchair: Dark Skin Tone emoji conveys the presence and visibility of individuals with disabilities in online communication, while also emphasizing the importance of inclusivity and representation of diverse skin tones.
Images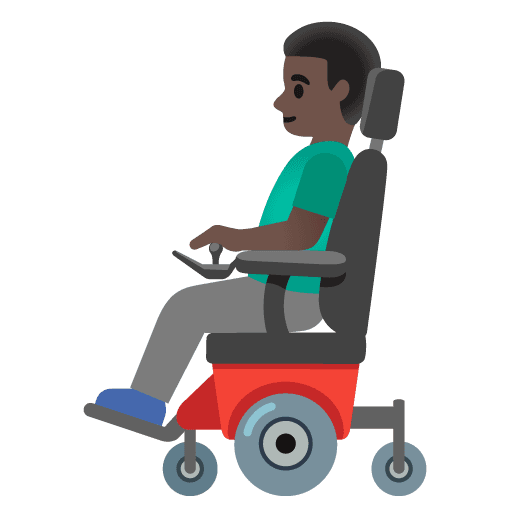 Google Noto Color Emoji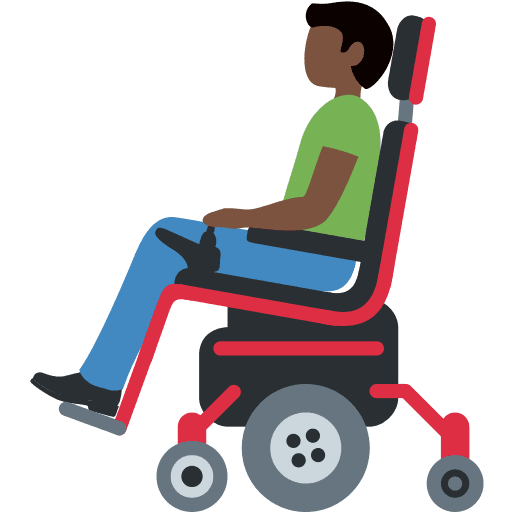 Twitter
Technical Information
| | |
| --- | --- |
| Emoji | 👨🏿‍🦼 |
| Name | Man in Motorized Wheelchair: Dark Skin Tone |
| Codepoints | U+1F468 U+1F3FF U+200D U+1F9BC |