Person Rowing Boat: Medium Skin Tone
Meaning
The Person Rowing Boat: Medium Skin Tone emoji depicts a person sitting in a boat and rowing. The boat is usually shown from a side view, with the person facing forward and using oars to row through the water. This emoji is available in various skin tones, and the medium skin tone version represents individuals with a moderate brown complexion.
This emoji can have multiple meanings depending on the context in which it is used. One common interpretation is that it represents leisure activities such as rowing or boating. It can symbolize relaxation, spending time outdoors, and enjoying recreational activities on the water. It might be used to express a desire or plan to go boating or engage in similar pastimes.
Additionally, the Person Rowing Boat emoji can convey a sense of physical exercise and sporting activity. Rowing requires physical strength and stamina, so this emoji could be used to represent someone's commitment to fitness or their participation in a rowing or water sports competition. It can also symbolize teamwork and cooperation, as rowing often requires synchronized efforts between multiple individuals.
In a metaphorical sense, the Person Rowing Boat emoji can be used to depict someone who is diligently working or striving towards a goal. Just as rowing requires effort and perseverance to move the boat through the water, this emoji can symbolize someone's determined efforts and persistence in achieving their objectives. It might be used to represent someone's work ethic, ambition, or desire to make progress in their personal or professional life.
Overall, the Person Rowing Boat: Medium Skin Tone emoji represents various concepts such as leisure activities, physical exercise, teamwork, determination, and progress. Its precise meaning will depend on the context of the conversation and the intentions of the sender.
Images
Google Noto Color Emoji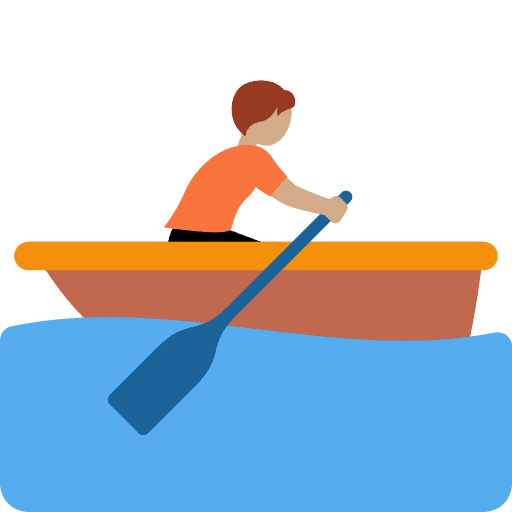 Twitter
Technical Information
| | |
| --- | --- |
| Emoji | 🚣🏽 |
| Name | Person Rowing Boat: Medium Skin Tone |
| Codepoints | U+1F6A3 U+1F3FD |