Woman Bouncing Ball: Medium Skin Tone
Meaning
The Woman Bouncing Ball: Medium Skin Tone emoji depicts a female figure with medium skin tone bouncing a ball. This emoji is generally used to represent a woman engaging in physical activity or playing a sport, specifically bouncing a ball. The medium skin tone modifier indicates the diversity of skin tones and allows for representation of individuals with medium complexion.
This emoji can be used in various contexts, such as conversations about fitness, sports, or leisure activities. It can also be used to express enthusiasm, energy, or a playful attitude. For instance, if someone is excited about an upcoming basketball game, they may use this emoji to convey their anticipation.
Additionally, the Woman Bouncing Ball emoji can be used to symbolize teamwork, coordination, or athleticism. Its use is not limited to a specific sport, but can generally represent any activity that involves bouncing a ball, such as basketball, volleyball, or even playing with a beach ball.
In summary, the Woman Bouncing Ball: Medium Skin Tone emoji portrays a woman with medium skin tone actively bouncing a ball. With its versatile usage, it can represent different sports or activities and convey messages of enthusiasm, energy, teamwork, and athleticism.
Images
Google Noto Color Emoji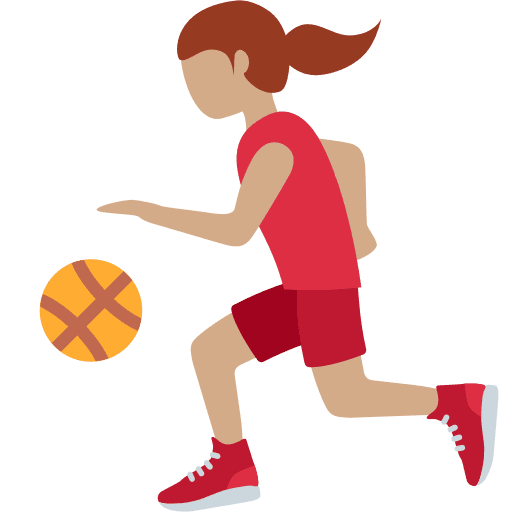 Twitter
Technical Information
| | |
| --- | --- |
| Emoji | ⛹🏽‍♀️ |
| Name | Woman Bouncing Ball: Medium Skin Tone |
| Codepoints | U+26F9 U+1F3FD U+200D U+2640 U+FE0F |