Woman in Steamy Room: Medium-dark Skin Tone
Meaning
The Woman in Steamy Room: Medium-Dark Skin Tone emoji depicts a woman with medium-dark skin inside a steamy room or sauna. This emoji is part of the Unicode 12.0 release and was added in 2019. It falls under the category of people (specifically women) and is available in different skin tones to allow for diversity and representation.
The predominant feature of this emoji is the steam surrounding the woman, indicating that she is in a hot or steamy environment. This can be interpreted in various ways, but generally, it represents relaxation, self-care, or a spa experience. Saunas are often associated with promoting physical and mental well-being, as the high temperatures and steam help to release toxins and soothe the body.
The woman in this emoji is shown with medium-dark skin tone, signifying her racial or ethnic background. The use of different skin tones in emojis is aimed at inclusivity, recognizing and celebrating the diversity of human races and ethnicities worldwide. This particular skin tone allows individuals with medium-dark skin to see themselves represented in digital communication, reflecting the multicultural society we live in.
The Woman in Steamy Room: Medium-Dark Skin Tone emoji can be used to express a variety of meanings depending on the context. It can be used to convey that the sender is feeling relaxed, pampered, or indulging in self-care. It may also suggest the idea of taking a break, unwinding after a long day, or seeking stress relief. Additionally, it can be used to discuss wellness, health, or beauty treatments associated with saunas or steam rooms.
In summary, the Woman in Steamy Room: Medium-Dark Skin Tone emoji represents a woman with medium-dark skin enjoying a steamy or sauna environment. It symbolizes relaxation, self-care, and overall well-being. By including various skin tones, this emoji embraces diversity and fosters inclusivity in digital communication.
Images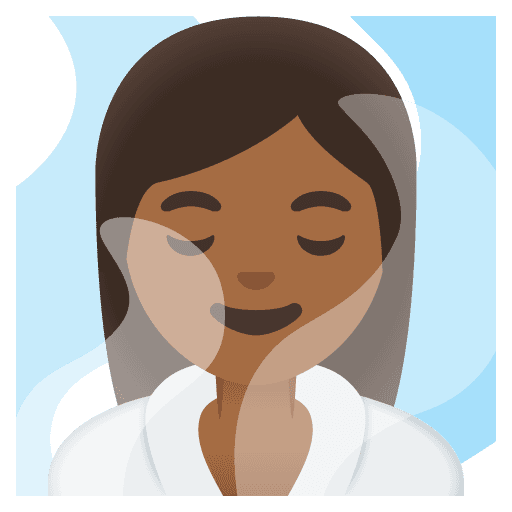 Google Noto Color Emoji
Twitter
Technical Information
| | |
| --- | --- |
| Emoji | 🧖🏾‍♀️ |
| Name | Woman in Steamy Room: Medium-dark Skin Tone |
| Codepoints | U+1F9D6 U+1F3FE U+200D U+2640 U+FE0F |