Handshake: Dark Skin Tone, Light Skin Tone
Meaning
The Handshake: Dark Skin Tone, Light Skin Tone emoji depicts two hands clasping together, with one hand featuring a dark skin tone and the other hand featuring a light skin tone. This particular emoji aims to represent diversity and equality by showcasing individuals of different skin tones coming together in a respectful and friendly manner.
This emoji can be interpreted in various ways, depending on the context and the intention behind its usage. One possible meaning is unity and collaboration. The handshake gesture often symbolizes agreement, trust, and cooperation. By featuring two different skin tones, this emoji emphasizes the importance of inclusivity and harmony among individuals with diverse backgrounds.
Another possible interpretation of the Handshake: Dark Skin Tone, Light Skin Tone emoji is solidarity and empowerment. In the context of racial or social justice movements, this emoji can serve as a symbol of support and allyship between people of different races or ethnicities. It highlights the idea that everyone, regardless of their skin color, can work together towards a shared goal of equality and justice.
Additionally, this emoji can signify friendship and camaraderie. A handshake is a common gesture when two people meet or establish a connection. By incorporating different skin tones, this emoji celebrates the beauty of multicultural relationships and promotes the idea that friendships can thrive across racial and ethnic boundaries.
Furthermore, the Handshake: Dark Skin Tone, Light Skin Tone emoji can be used to represent representation and inclusivity. It acknowledges the need for fair representation and equal opportunities for individuals from all backgrounds. By including different skin tones, this emoji sends a message of acceptance and equality, encouraging a society that embraces diversity and values each person's unique experiences and perspectives.
In conclusion, the Handshake: Dark Skin Tone, Light Skin Tone emoji serves as a powerful symbol of unity, solidarity, friendship, representation, and inclusivity. It conveys messages of collaboration, support, and equality, highlighting the importance of embracing diversity and creating a harmonious and accepting society.
Images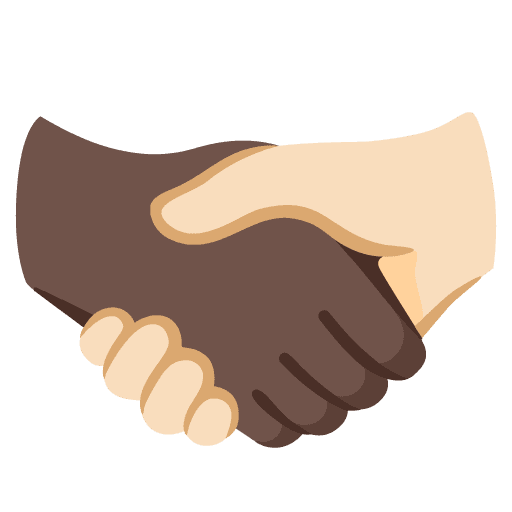 Google Noto Color Emoji
Twitter
Technical Information
| | |
| --- | --- |
| Emoji | 🫱🏿‍🫲🏻 |
| Name | Handshake: Dark Skin Tone, Light Skin Tone |
| Codepoints | U+1FAF1 U+1F3FF U+200D U+1FAF2 U+1F3FB |