Handshake: Medium-dark Skin Tone, Medium-light Skin Tone
Meaning
The handshake emoji is a depiction of two hands, one representing the left hand and the other representing the right hand, coming together in a grasping motion. The emoji utilizes various skin tones to represent different racial and ethnic backgrounds. In this case, the emoji includes both a medium-dark skin tone and a medium-light skin tone.
The handshake is a universal gesture that is often used to symbolize agreement, cooperation, or partnership. It is a way of expressing mutual understanding and solidarity between two individuals or groups. By incorporating different skin tones, this emoji seeks to represent diversity and inclusivity, celebrating the connections that can be formed regardless of racial or ethnic backgrounds.
The inclusion of a medium-dark skin tone and a medium-light skin tone in the emoji highlights the importance of representation and recognition of different racial identities. It acknowledges the diversity within human society and strives to create a more inclusive and respectful online environment.
This particular combination of skin tones in the handshake emoji can be used in a variety of contexts. It can be used to indicate cooperation or collaboration between people of different racial or ethnic backgrounds, demonstrating unity and understanding despite differences. It can also be used to celebrate diversity, equality, and inclusivity, promoting social harmony and acceptance.
Overall, the handshake: medium-dark skin tone, medium-light skin tone emoji serves as a visual representation of unity, diversity, and inclusivity. It promotes the idea that coming together and working hand in hand, despite different racial or ethnic backgrounds, can lead to positive outcomes and a stronger sense of community.
Images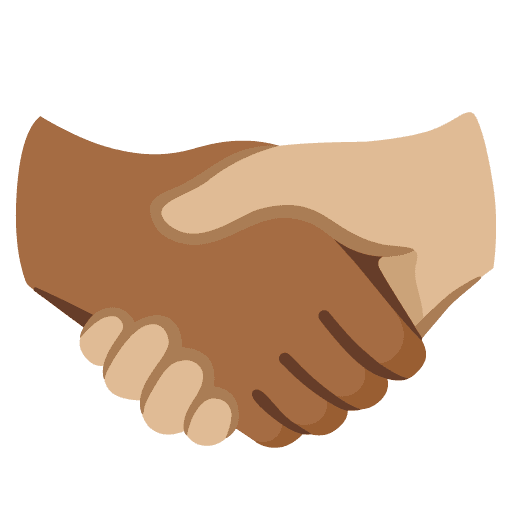 Google Noto Color Emoji
Twitter
Technical Information
| | |
| --- | --- |
| Emoji | 🫱🏾‍🫲🏼 |
| Name | Handshake: Medium-dark Skin Tone, Medium-light Skin Tone |
| Codepoints | U+1FAF1 U+1F3FE U+200D U+1FAF2 U+1F3FC |